Internet of things sensors
IoT-operated by SigFox network Battery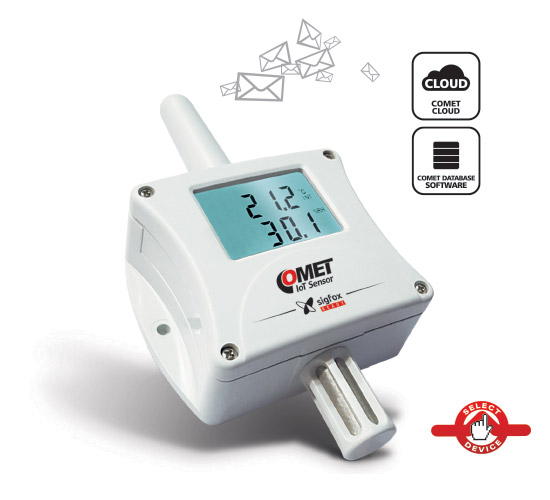 Main features
accurate measurement of
- temperature
- humidity
- barometric pressure
- events
cheap wireless communication for long distances
indication of alarm via SMS
easy to use database software for data analysis on PC
data storage in the Comet cloude
rugged design
long battery life up to 5 years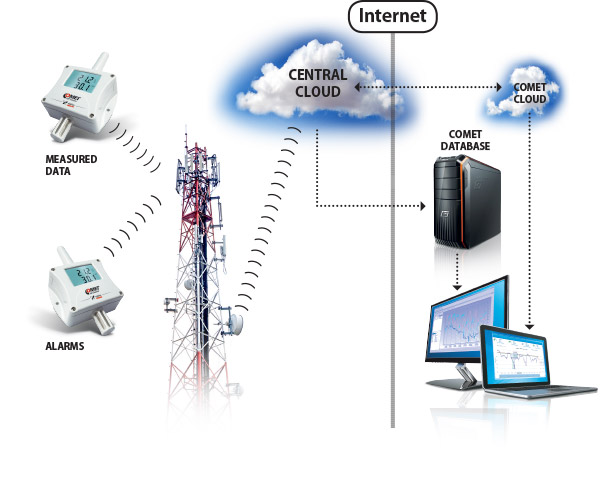 Battery operated recorders
Mobile Dataloggers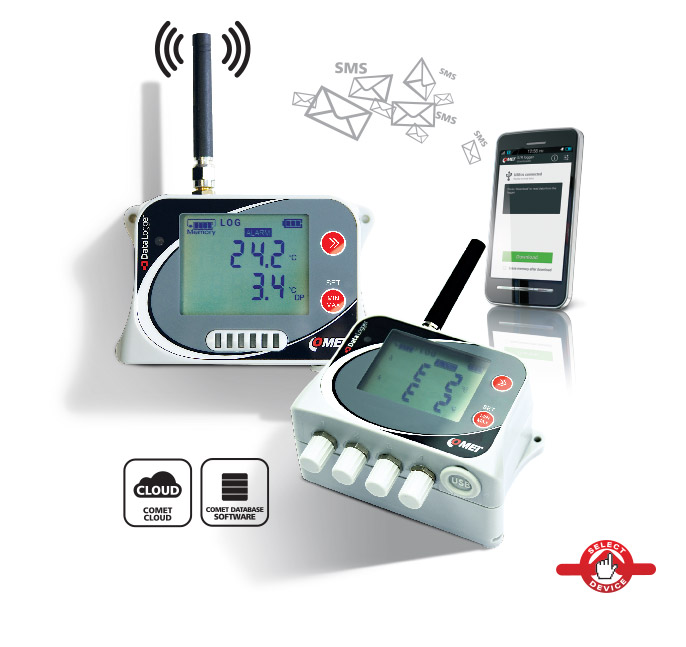 Main features
accurate measurement of
- temperature
- humidity
- dew point
- events
nonvolatile memory for 500 000 records
indication of alarm via SMS, 3-colours LEDs
easy to use software for data analysis on PC
communication interfaces - USB-C snd GSM modem
rugged design
long battery life up to 6 years
logger deployment down to -40°C
Temperature * Humidity * Pulses * Events
DATALOGGERS COMET measure physical parameters such as TEMPERATURE, HUMIDITY and DEW POINT. Comet system produces also two-state recorders for monitoring the functions of the machine, running of engine, door open / closed, to control technology procedures, etc. These two-state recorders are also available in combination with the measurement above variables, as well as in combination with PULSE counter for monitoring of water, gas and electricity consumption.
The current measured values are stored at preset intervals from 1 seconds to 24 hours. You can store up to 500 000 values. Logging mode can be adjusted as non-cyclic, when logging stops after filling the memory, or cyclic, when the oldest recorded values are overwritten by new ones after the memory is full. Further, the recording can be set to run only when the measured value is outside preset alarm limits. The datalogger can also record MIN / MAX values.
Alarm indication
For each measurement channel can be set upper and lower limits. In case the limits are exceeded an alarm is indicated as the value blinking on the display. You can select continuous alarm mode when the alarm is active only if the critical situation persists, or memory mode when an alarm is still indicated after measured conditions return to normal.
The recorded data can be transferred to a personal computer in several ways for further analysis. USB or RS232 communication adapters can be used for short distances, it is necessary to bring the logger to the PC. If it is necessary to download data on the place where logger is mounted the data can be stored in a tablet or smart phone using the Android app. The measured data can be also accessed remotely via GSM modem.